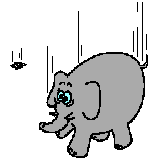 Answers are posted on the Homework Site.
It looks like the mass of an object doesn't affect the time it takes that object to free fall. Does that make sense? A grape and a bowling ball dropped from the same height will take the same amount of time to fall to the ground?
Any questions, comments, or suggestions?

Check out this video.